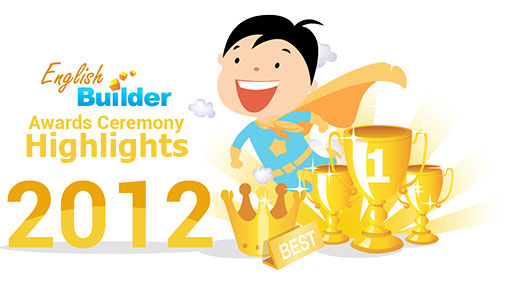 English Builder Awards Ceremony 2012 Highlights
Congratulations to all students once again!
The English Builder Awards Ceremony 2011 was held successfully on 17 July 2012.
We would like to express our gratitude to all guests, principals, teachers, students and parents, for your immeasurable support and encouragement. The efforts of teachers and students were recognised with cheers and applause. These successful students will be encouraged to continue their learning journey and pursue their goals. All participants enjoyed the film "Ice Age 4" too.
Because of your support and encouragement, we will continue providing quality, innovative educational experiences.
We look forward to seeing you at the 2013 awards ceremony!
Photo Highlights
Sharing of Students
It is hard to describe the glee I had upon knowing I have won an award. Of course, I would like to express my gratitude to my teachers and parents for their support. Not only have the online exercises helped me ameliorate in English, but it has also taught me lessons through the passages about different people in the world. I also noticed the importance of being careful, and I found out in which aspects I need to improve. Lastly, I would like to recommend English Builder to those who want to improve in English.
Li Pak Yui Gigi | DMHC Siu Ming Catholic Secondary School
---
First, I need to thank English Builder for offering many useful listening and reading exercises and I have learnt a lot of vocabulary and phrasal verbs which are conducive to writing. Also, I think learning on the Internet is not as boring as I thought because there are animations and illustrations that can enhance my interest in learning English. It is extremely educational!
Finally, I am glad that I have the precious opportunity to do those exercises as I find that I have benefited from English Builder a lot.
Chan Ho Hin | Hong Kong Chinese Women's Club College
---
It has been an enjoyable and rewarding experience of using English Builder for the past ten months. I enjoy listening to the sound recording, as the voices of the ladies are so sweet and soft that it is easy for us to understand. The character of the monkey in the Game is also very amusing. I find the FAST assessment challenging yet rewarding. I am delighted with the thrill of success that I finally managed to become one of the winners of the Top Achievers Awards. I look forward to doing English Builder on a daily basis.
Poon Tak Chun | Hong Kong Chinese Women's Club College
---
English Builder can help me to improve my English effectively, including reading, listening, speaking, grammar and vocabulary. For each lesson, English Builder provides an interesting, popular and thought-provoking topic for me. I can learn about numerous current affairs and social problems from these topics. Moreover, English Builder is exam-oriented, because the questions are similar to HKDSE. Because of English Builder, my English's exam results have improved. Finally, I urge all students to use English Builder since English Builder is a good system to improve your English ability.
Lam Kin Wa Kent | Kwok Tak Seng Catholic Secondary School
---
I am happy that I can use English Builder. Before secondary school, I had not done any English exercises on the internet. I think it is easy to learn English by myself. I like English Builder very much because it can improve my English skills, such as listening, writing and grammar. I hope I can keep on with English and maintain my good results.
Mak Yin Yan | Kwok Tak Seng Catholic Secondary School
---
After I started doing English Builder, I found that my English has improved. During the whole school year, I did the exercises regularly for about 10 minutes on an average of three days a week. It didn't take me a long time, but I found that it was an essential part of studying. Building up English skills takes a long time and need a lot of efforts to be put in; that's why English Builder was good for studying. It's just like a review of English and builds up my vocabulary and grammar skills; now I do all the exercises so I can get extra knowledge of English.
Wu Man Tsun | Kwok Tak Seng Catholic Secondary School
---
There are many different ways to learn English. To me, English Builder is the most practical method. At first, English Builder exercises seemed very difficult to me. But after being encouraged by my teacher, I started doing it on time. This year, I have gained a lot from English Builder exercises and I really enjoy watching the videos. Moreover, I am very glad that I can be one of the prizewinners of English Builder. All in all, English Builder is a good platform to improve English.
Cheng Ka Man | Lung Kong WFSL Lau Wong Fat Secondary School
---
Through the English Builder, I was able to learn more different vocabulary and the use of grammar, etc. Also, this knowledge is useful in my studies or even in my daily life. Besides, after using English Builder, my reading ability and listening skills have improved and I am more confident in using English.
Chan Wai Suen, Judy | Lung Kong WFSL Lau Wong Fat Secondary School
---
There are unlimited ways for us to learn English. English Builder, a useful programme, provides a way for us to improve our English.
Through doing exercises in English Builder, I have made progress in using English. It helps me strengthen my skills in listening, reading, speaking and writing. Each exercise has some vocabulary items and phrases with definitions, so I can jot down difficult words and it is easily for me to understand and memorise them. In addition to exercises, assessments also help us enhance our English proficiency.
All in all, I absolutely hope more students will get interested in doing English Builder.
Liang Chaohui | Lung Kong WFSL Lau Wong Fat Secondary School
---
I'm glad that I could attend the ceremony this year.
At first, English Builder was quite difficult for me as there are many vocabulary words which were new to me. After doing the English Builder for some time, my English skills improved, especially in listening.
English Builder provides us a platform to learn English easily. We can simply highlight the specific vocabulary and the meaning is just beside it. Also, the speaker talks clearly and we can learn how to pronounce the words accurately.
In conclusion, English Builder is a great learning platform which allows us to learn English conveniently!
Lam Chi Hao (Leo Lam) | Sing Yin Secondary School
---
Many students may think that doing English Builder is time-consuming. Actually, completing English Builder exercises only twice a week won't take us too much time. And if we do exercises in English Builder seriously, we can gain lots of benefits. For instance, we can know more about current news and improve our English. Most important of all, I love the stories, movies and songs in English Builder. They are all fascinating and not dull at all. If we write some comments to English Builder in some specific time slots, we can have a chance to get free film tickets too. Therefore, let us gain more from English Builder together! :)
Lau Wing Yan, Emily | SKH Bishop Baker Secondary School
---
English Builder gives us a good online platform for studying English especially listening, reading and speaking skills .The part on vocabulary is my favourite as it provides me with loads of vocabulary which enrich my writing skills. Besides, every single topic of English Builder is the latest news about Hong Kong society. It really helps us get in touch with our society. One stone kills two birds. Boosting our knowledge in liberal studies is another benefit of doing the online exercises in English Builder. To a certain extent, English Builder cultivates our daily reading habits. It is essential for students to widen their horizons. Last but not least, we learn how to be responsible and study on our own.
Ting Mei Yi | SKH Bishop Baker Secondary School
---
When I did the English Builder exercises, I spent around 30 minutes to finish them. When there was as assessment, I was afraid that I would do many questions incorrectly. One day, I did a quick assessment, and I accidentally clicked the submit button without selecting any answers! Fortunately, I found that all the assessment questions came from the previous exercises and I used the print screen function to copy the previous exercises and do the assessment. I also got 100% in June's assessment.
Chu Tsun Ping | SKH Chan Young Secondary School
---
I'd like to acknowledge that English Builder has given me a great chance to use English. As I was not really interested in learning English before, the fascinating lessons such as adages and fables were effective in attracting me to make an effort in learning English. English has become my friend since I started the interesting courses of English Builder! What I've learnt from this friend is that learning English is not as difficult as I thought. It is our determination that counts! If you are interested in improving your English, you should try using English Builder.
Wu Yuen Hou | PLK Mrs Ma Kam Ming-Cheung Fook Sien College